Virginia Restaurant Owner Defies COVID Rules
[ad_1]

A Virginia restaurant owner who urged his employees to defy state COVID-19 restrictions is battling a court case to keep his business open.
Matt Strickland, an army veteran who owns Gourmeltz restaurant in Fredericksburg, has refused to make his workers or customers wear face masks.
The state health department is suing to force Strickland to close permanently and a judge is set to make a ruling by Friday. Although the restaurant is currently open, its food license has been suspended for repeatedly violating the governor's orders.
Strickland's defiance is risking the future of his business, which he spent five years building from a food truck.
Health guidelines in Virginia order restaurant employees working in customer-facing areas both indoors and outdoors to wear masks. Employees in other areas of the facility are encouraged to wear face coverings, especially when physical distance of 6 feet cannot be maintained. Customers are also urged to wear face coverings on their nose and mouth, except while eating and drinking.
Strickland told WUSA90: "I'm not afraid of the state, I'm not afraid of the federal government. I spent most of my adult life fighting in Iraq and Afghanistan. I have no problem coming home and fighting here in Virginia."­
However, some customers at his restaurant, which also has a 1990s music bar and draft house, have criticized his stance.
"That's kind of stupid," Dedrick Napper told the network as he bought lunch at Gourmeltz. "The mask is not a big deal. You should wear a mask," he added.
"If you do what the government says just because they say so, they'll keep taking and taking and the things you give them you'll never get back," Strickland said.
"The state, the government, the president … They will never scare me into backing down. I will never kneel down and kiss that ring. I will fight as long as I've got to fight. I will fight as hard as I have to fight."
"It's crucial that everyone play their part and adhere to the COVID guidelines in order for Virginia to return to normal as quickly and safely as possible," said Charlotte Gomer, a spokeswoman for state Attorney General Mark Herring.
More than $9,200 has been raised to keep the diner open and "protect the American Dream," according to the restaurant's website.
Gourmeltz "has been serving customers without a single incident of COVID-19, including any potential reports through contact tracing, nearby outbreaks or any customers or employees testing positive, since the outbreak began," said Strickland's attorney Bob Barr, a former Republican congressman.
Newsweek has contacted Barr and Strickland for further comment.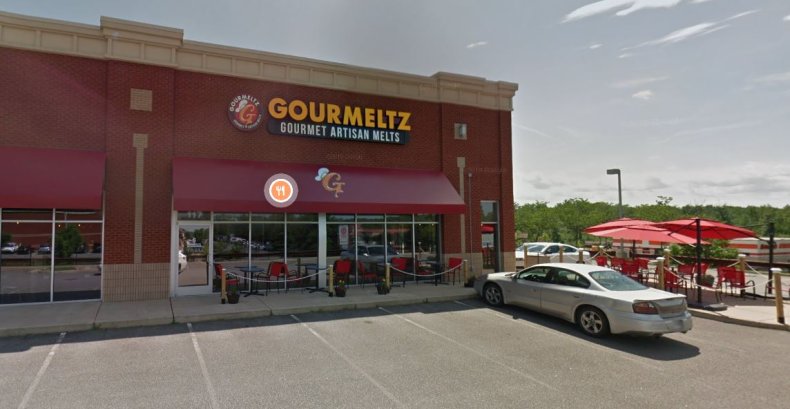 [ad_2]

Source link