VEE is Back! And With it the Latest and Greatest Products to Wow Your Patients and Customers
[ad_1]

MUCH IS MADE of the patient experience in eyecare. Enhancing that experience can be approached many ways, but along their route through your business there are several opportunities to awe patients and customers with the equipment and products they interact with and touch. For this VEE Buying Guide, we're walking you through the main patient touchpoints and the items they're likely to experience along the way — from exam lane through point-of-purchase — so you're up-to-date on the latest wow-inducing goodies to invest in for your business.
In most practices, the exam lane is where you blow patients away with your medical expertise and cutting-edge tech. The best in optics, accuracy and efficiency is the name of the game here and this crop of equipment, software, CLs, lenses and lens processing for MDs, ODs and techs more than fit the bill. Because — all together now — sales start in the chair!
Santinelli
With several new features including a flexible lens clamp design that stabilizes the lens surface with optimal pressure for parallax-free blocking, the new ICE-1500 SUPERINTELLIGENT BLOCKER pairs with the ME-1500 multifunction edger.
Price upon request
(800) 644-3343, santinelli.com
Dr. Chrono
With the new DRCHRONO EHR app experience, ECPs can view medical records and handle other tasks during DrChrono Telehealth Video visits.
Free with signup ($.05/minute after 5,000 minutes/month)
(844) 569-8628, drchrono.com
J&J Vision
The new Acuvue Oasys Multifocal contact lenses offer pupil optimized design, for patients with presbyopia. The new lens offers improved visual performance and a more precise fit.
Price upon request
(800) 874-5278, jnjvisionpro.com
VSP Optics
VSP's Unity BioSync with HydraMist has expanded its contact lens portfolio with an option for an 8.5 base curve, in addition to its already available 8.8 base curve.
Price upon request
(800) 245-6414, unitycontactlenses.com
Ocutrx Technologies
For those multi-discipline practices, Scopetrx, a new, wireless laparoscopic swivel camera tool, offers surgeons an unobstructed view (360° x 270°), an increased field of view of 100° and enhanced, 4K resolution.
Price upon request
(949) 623-8621, ocutrxtech.com
Advertisement
Transitions
The newest Transitions XTRACTIVE lenses offer a new level of photochromic technology, with the highest level of light protection yet, as well as extra darkness.
Price upon request
(800) 533-2081, transitions.com
Art Optical
Following a pilot study to assist in developing the decentration methodology, the latest AMPLEYE Multifocal Optic can now be customized to ensure placement directly in the patient's line of sight.
Price upon request
(800) 253-9364, artoptical.com
This is where a lot of the fun in an eyecare business happens! As such, you should be sure you're offering the newest, buzziest styles. Whether you're an OD-owned practice or a boutique eyewear destination, a fashion-driven high-end shop or a family practice looking for your next best seller, look no further than the next couple pages.
A. LIFESTYLE COLLECTIONS — a little something for everyone.
RoundTen
ROUNDTEN is new to the market and their frames have a core made with Flextal, a registered material in a high-carbon, titanium enriched austenitic stainless-steel alloy. The frames, which include the Bali sun, are made without welds, screws or tools.
$339
(877) 889-0399, villaeyewear.com
Komono
Experimenting with shapes and bringing opaques and translucents together, the KOMONO Illusions Collection includes the Adrian, a round acetate with an air of mystery.
$118
Etnia Barcelona
Throwing it back with the new Vintage Collection from ETNIA BARCELONA, the metal sun Hamilton offers a reminder of the Golden Years of Hollywood, with this tribute to Mediterranean Glamourama of the Costa Brava.
$319
Tree Spectacles
The Stripes Capsule in the Bold Series from TREE SPECTACLES includes the Linda (2706). The hand-finished designs have stainless steel temples and a pop-art sensibility.
$280
Movitra
Among the MOVITRA's first-ever optical styles, the Greek mythology-inspired ISI is a full acetate with an innovative folding mechanism within the newly released 2021 eyewear collection.
$545
B. FASHION COLLECTIONS — Got customers looking for the next hot thing? Well, here you go…
Marcolin
Marcolin and Max Mara team up to launch their first eyewear collection, which includes the oversized geometric design of the MM0006.
$269
Marchon
One of the 16 styles in Marchon's Victoria Beckham Spring Summer 2021 collection, the '70s-inspired VB220S sunglasses rock a statement diamond shape with wide metal along its top half.
$405
(800) 645-1300, marchon.com
Safilo
The new Marc Jacobs collection, from Safilo, features cat-eye optical frames with three-dimensional milling treatment. The model MJ1014 is shown here on Bella Hadid.
$274
(800) 631-1188, mysafilo.com
Akoni Eyewear
The sky's the limit for the Skymapper, from the first-ever collection from AKONI EYEWEAR. Celebrating exploration, the collection is designed in California and made in Japan.
$775
Advertisement
Blackfin
Lightweight and rimless, the BLACKFIN's Aero Collection features frames that have a bridge made with a 0.7mm thin sheet of beta titanium, and ultra-thin temples as well. The BF942 has tilting nose pads and swordfish temple tips.
Price upon request
(877) 889-0399, villaeyewear.com
C. CORE COLLECTIONS — Your next bestseller. Your bread and butter. These are the styles you can sell all day long…
Alternative
A fresh, new collection from Alternative Eyewear, the Headlines HL-1501 is made with titanium blends that are both light and flexible.
$173.95
(888) 399-7742, alternativeeyes.com
Silhouette
Light and shadows find common ground in the 1597 from SILHOUETTE's new Eos View Collection, named for the goddess of the dawn.
$350
(518) 272-5500, silhouette.com
L'Amy America
Part of the Luxury Launch capsule collection for L'Amy America's Ann Taylor, the dressed-up-with-pearls ATP917 is an oversized butterfly shape ideal for smaller fits.
$84.95
(800) 243-6350, lamyamerica.com
Le Specs
A new addition to the LE SPECS family, Blue Light Glasses — which are actually anti-blue light — have arrived. The Bandwagon (2030103) has vintage-inspired details including a keyhole bridge, refined angles and metal rivet detailing.
$74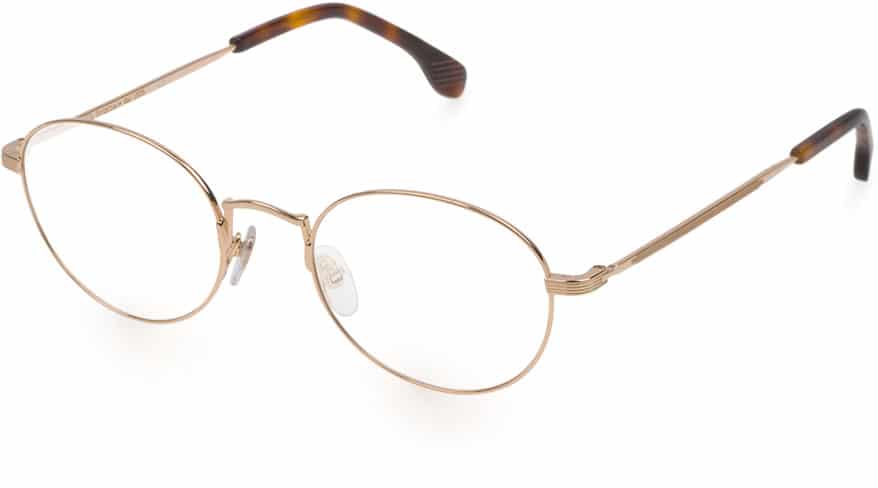 Derigo
For its Spring/Summer 2021 Collection, the more than 140-year-old Lozza, from Derigo, celebrates Italian style and elegance with 11 optical and 17 sun styles, including the metal VL2309. This frame stays in character with the brand's patented five-line trim on the endpieces and temples.
$192
(800) 423-3023, derigo.us
Charmant
Charmant's new Paris-inspired suns collection from ELLE has acetates, metals and combination frames. The geometric EL14909 is made with thin metal and has a quilt-like design on the temples and bridge.
$160
(800) 645-2121, charmant.com
Just because you've provided a fantastic exam and written up a customer's order, doesn't mean you're done with them. Make sure you're tempting them even further with a selection of items they didn't even know they needed until you were about to ring them up or dispense.
ClearVision Optical
Help everyone emerge from their fog with the new anti-fog lens cloths display kit from CLEARVISION OPTICAL. The kit includes 96 individually packaged cloths (it holds 72).
$4 per cloth
(800) 645-3733, cvoptical.com
Optase
Alcohol and preservative free, the new dry-eye spray from OPTASE relieves dryness and irritation. The advanced bottle technology for this eyedrop alternative allows for three months of sterility from the time it's opened and has a two-press pump system.
$24.95
(917) 795-4227, optase.com
ThinOptics
New for Spring/Summer 2021, THINOPTICS recently introduced Connect, the world's thinnest full-frame reading glasses, according to the company. Now your customers can leave their pricy new glasses at home when necessary because these are easier than ever to keep track of; their case attaches to a smartphone.
$39.95
(844) 484-4667, thinoptics.com
The Optical Source Unlimited
These silky nylon cases from OPTICAL SOURCE UNLIMITED are metal under the fabric. They're easy to customize with your logo, to include with purchase.
$1.09/case (with personalization)
(866)730-2371, theopticalsourceunlimited.com
Vibrant Vue
Nothing says summer like a new travel kit. The VIBRANT VUE standard travel kit includes scleral saline, multipurpose solution, scleral lens inserter, scleral lens remover, lens case, and a pouch to hold it all.
$30
(833) 984-2359, vibrantvue.com
[ad_2]

Source link