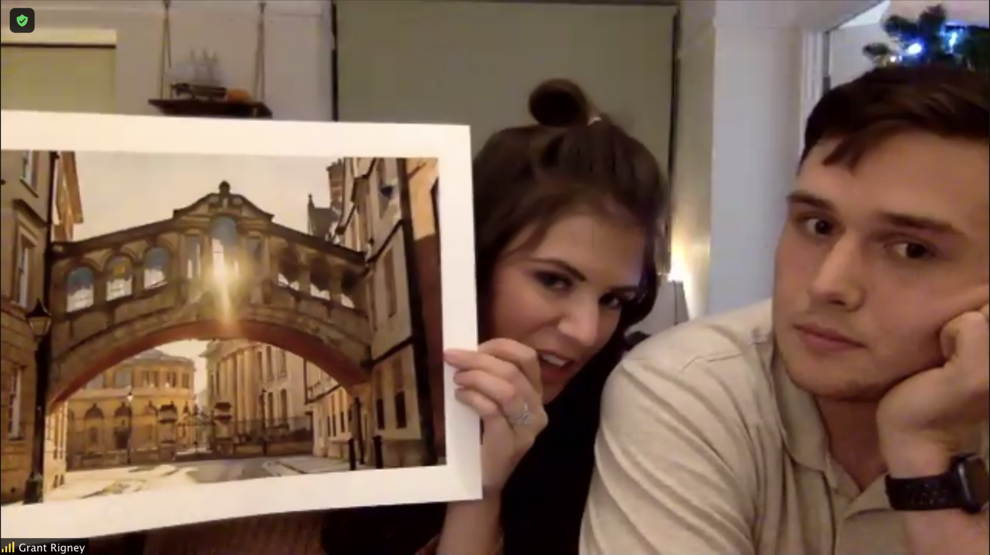 UT graduate Grant Rigney has been a lot of things: an engineering student, a professional musician, a Rhodes Scholar and now, a prospective medical student.
Rigney graduated from the University of Tennessee in spring 2019 with a bachelor's degree in chemical and biomolecular engineering. He then received the prestigious Rhodes Scholarship and began graduate studies at the University of Oxford in fall 2019.
He has obtained one master's degree and is set to finish a second degree by fall 2021. He plans on going to Harvard Medical School to become a neurosurgeon afterward.
Rigney spoke about his time at UT prior to becoming a Rhodes Scholar.
"My time at UT was amazing," Rigney said. "I was fortunate to have several kind mentors and many great professors who went out of their way to help me. I met my wife at UT and some of my best friends there, too. All things considered, my four years at UT were some of the most formative (and fun) of my life thus far."
He selected UT out of convenience in terms of finances and location. However, he said that he made the right decision in attending the university. He was stressed at times but pulled through with friends by his side.
"I also think about how UT, and especially the Haslam family through the Haslam Scholars Program, provided me with access to resources that helped me succeed and prepared me for life after UT, for which I am incredibly grateful," Rigney said.
Although his current studies aren't fully related to chemical and biomedical engineering, Rigney said that his experience at UT helped prepare him to become a better student at Oxford.
While at UT, Rigney led the Pursuit research journal as the editor-in-chief after acting as a board member.
"I joined the journal because I wanted a better understanding of how the research process worked, specifically from the publisher's side," Rigney said. "I really enjoyed working for and leading Pursuit. I worked with Dr. Moazen in the office of undergraduate research, who was incredibly helpful and kind when guidance was needed."
Rigney added that it benefited his current studies, because he understood research articles from the publication point of view. He said that it gave him a more analytical and critical viewpoint that he applies to his work.
The Rhodes Scholarship is one of the oldest and most prestigious scholarships available, and Rigney was the eighth UTK student to receive the award.
Director of the Office of Undergraduate Research and Fellowships Andrew Seidler said that Rhodes is a very competitive scholarship, as only 32 students in the United States can receive it every year. The scholarship accommodates for several types of research that students can pursue.
"There are several things that make it distinctive," Seidler said. "For one thing, it's fully funding study, whether it's for a second bachelor's degree or to do graduate study, at Oxford. But they really try to take into account the whole person in terms of their selection process."
Seidler helped Rigney figure out his application for the scholarship. They met together several times to discuss scholarships and Rigney's future. 
"He's a multi-talented person," Seidler said. "He's like an internationally competitive musician and an exceptionally strong student. I think, though, he is just so extraordinarily driven, but not in the sense that he's steam rolling over other people. … But his drive and his sort of maturity is just extraordinary."
Seidler and his office pushed Rigney toward the Rhodes Scholarship, which has fully-funded Rigney's studies at Oxford.
In his two years at the university, Rigney has earned a master's of science in evidence-based social intervention and policy evaluation. He is currently working on a second master's of science for clinical and therapeutic neuroscience. He will finish this second degree by fall 2021.
He hopes that the Rhodes Scholarship and his time at Oxford will prepare him for Harvard Medical School. 
"Ultimately, I hope this scholarship will give me the resources to be a great neurosurgeon involved in health policy and health equity research throughout my career," Rigney said "I am really excited to help people by being a neurosurgeon, and I hope to conduct policy-focused research that improves health outcomes and makes specialty surgical care equally accessible for all."