As her sons waited to be examined by an optometrist, Sherika Devoe expressed her relief at not being billed for their eye exams or the new prescription glasses her 9-year-old so desperately needed. Thanks to a vision health initiative launched this month by local nonprofit Supa Friends, the mom of two could instead shift her focus and financial means to more important matters, like providing food and shelter for her children.
EyeCARE Saturdays, a program developed by Supa Friends in partnership with local luxury eyewear retailer Daniel Oberti, kicked off the first of what's anticipated to be many such weekend events last Saturday to offer free eye care services to children from underserved communities.
The festive effort featured live entertainment, food and dancing children awaiting their turn for an exam and consultation with one of two in-house optometrists, all under the roof of Oberti Luxury World, located in North Miami Beach.
Saturday's event served 45 students between the ages of 5 and 17. Each received a vision screening and two comprehensive eye exams to determine whether they needed glasses. Those needing glasses were asked to select frames from myriad options ranging in both style and color. After the prescription has been added, glasses will then be delivered to or picked up by parents, free of charge.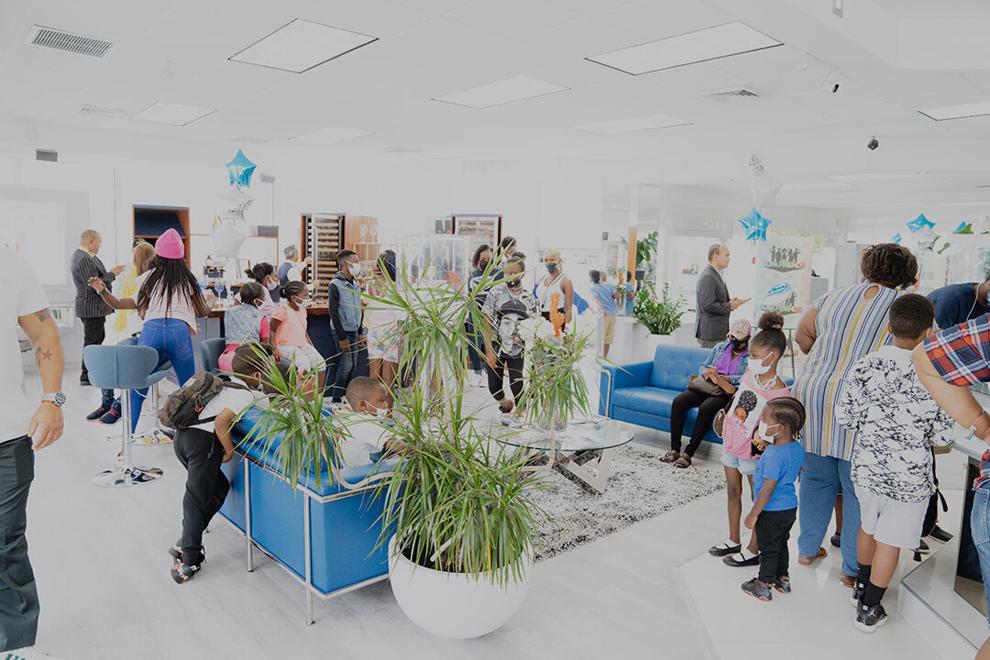 "Usually some events just offer free eye exams, then the kids are given a paper with a prescription to fill somewhere else," said Supa Cindy, 99 Jamz radio personality and founder of the Supa Friends nonprofit. "How many parents have the capability of following through with the glasses considering the price? That's why this is a game-changer."
The idea for the initiative came from a conversation with a friend, who then connected Supa Cindy with Oberti because of his established commitment to helping disenfranchised communities abroad. The Argentinian-Italian eyewear designer's Mission Vision campaign has been providing vison health resources to children in other parts of the world – including Haiti, the Dominican Republic, Honduras and Argentina – since 2010. With those efforts curtailed by the pandemic, partnering with Supa Friends was a way to continue his work, this time in Miami.
"This is my calling, and the vision I have is to bless children so they can see well," said Oberti. "I'm excited to finally be doing this here. Timing is everything in life and sometimes we just have to wait for the right moment."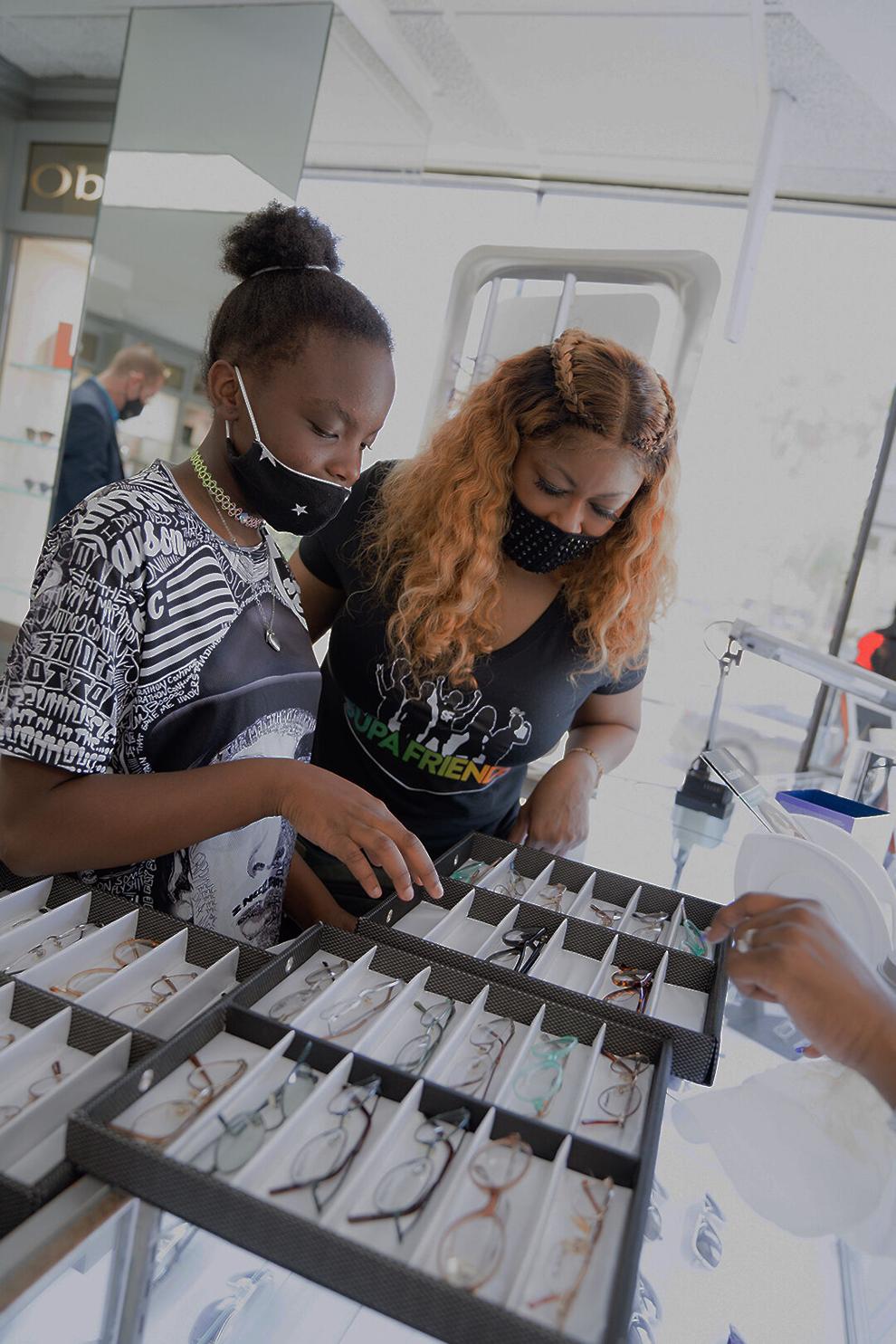 While Oberti and his team provide exams and glasses, Supa Cindy works on outreach and used her platform to allow parents to sign their children up for the program. North Dade Middle School students in Opa-locka were selected as the first group to benefit from the program, after assistant principal Kayla Edwards expressed that there was a need.
Stories of students sharing glasses in school – even before the pandemic, which has compelled children to spend more time in front of screens during remote learning – highlighted the huge gap in needed vision health services. Some of those students were even afraid to admit that they experienced issues with their vision.
"The inequities that exist across communities for our students have always been there, but the pandemic has thrown them into the spotlight," Edwards said. "Outreach efforts like EyeCARE Saturdays are critical to bridging those gaps and effecting positive change for our children. I am so grateful for this new initiative – and I know my students and their families are, too – and I'm so happy to be a part of its launch."
Though the intended audience for the inaugural EyeCARE effort was students at North Dade, parents with children at other schools who inquired about the event were welcomed with open arms.
"When parents from other schools contacted me, I didn't turn them away," said Supa Cindy.
Devoe's sons, students at Abundant Life Christian Learning Center/New Jerusalem, were among that group.
"My 9-year-old son really needed those glasses because he's in school all day and in front of a computer screen," she said. "He wears his glasses 24/7 and even wears them to bed. I'm grateful I don't have to come out of pocket this time. It helps a lot."
She said the event also taught her sons the importance of eye care and expelled some myths she had prior to the visit.
"The idea is to give these children the best, give them quality and talk to them about why they are receiving the glasses and educate them," said Oberti, explaining that few realize the harmful effects extended periods of time in front of a computer, phone or tablet screen can have on the eyes.
The store happily provided students with blue light blocking glasses and transition lenses, and even offered free repairs for any sets that become scratched, broken or damaged within six months.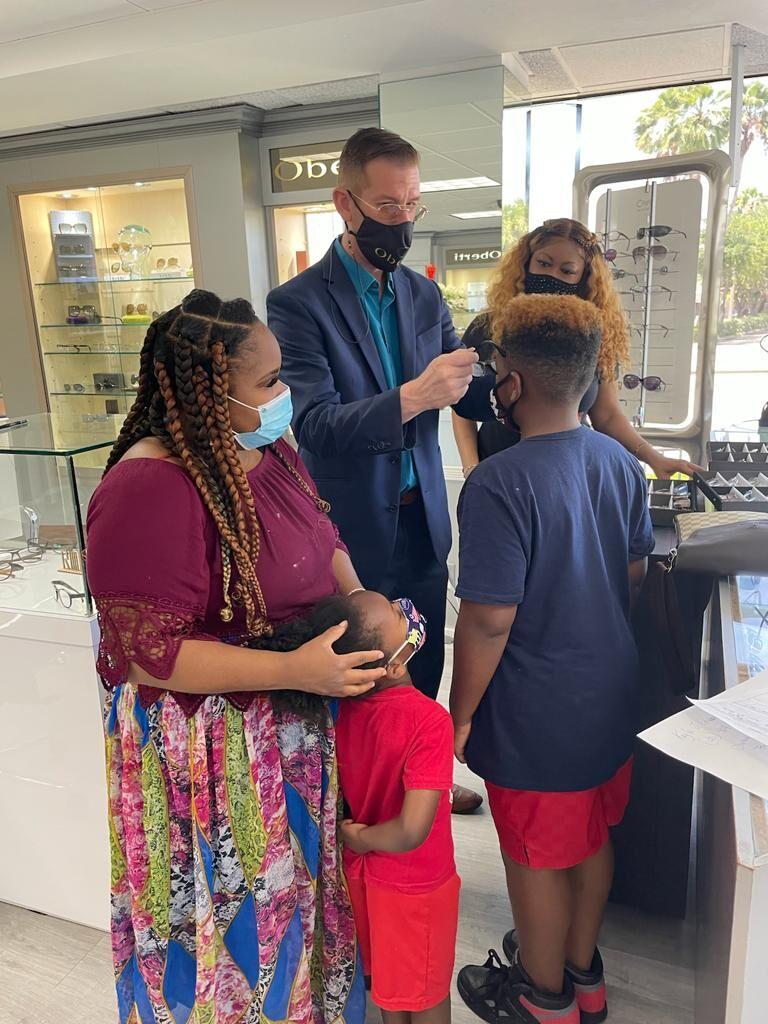 Saturday's visitors were a far cry from Oberti's usual clientele, which includes celebrities like Luis Enrique, Oscar D'Léon and rapper Rick Ross. The store has been a reliable resource for Miami residents looking for on-trend eyewear, prescription glasses and optimal vision care for the past 30 years.
By partnering with Supa Friends and administrators at local schools in the county, Oberti plans to reach as many children as he can as long as there is a need. EyeCARE Saturdays will be an ongoing effort taking place periodically throughout the year; future dates are pending. In the meantime, school administrators, parents and guardians can visit SupaFriends.org or email [email protected] for more information.
Plans to resume the Oberti's efforts abroad are not off the table, as this recent partnership with Supa Friends reveals yet another opportunity to reach more children, because of its founder's Dominican heritage and her connections in the country.
"My dream would be to give 500 kids glasses at a time, but we have to work within our means," said Supa Cindy, who was satisfied with the outcome of Saturday's event. "If we get more partners helping us with this event and donations, we would love to make this even bigger."