Burrell discusses mental health during pandemic at Columbia Mall vaccination event | A Brighter Tommorrow
[ad_1]

COLUMBIA – Burrell Behavioral Health set up a display to educate and reach out to people at the Columbia Mall vaccination event Monday and Tuesday.
Burrell Crisis Counseling Program manager Jackson Douglas handed out fliers with mental health resources as people exited the waiting area after getting their shots.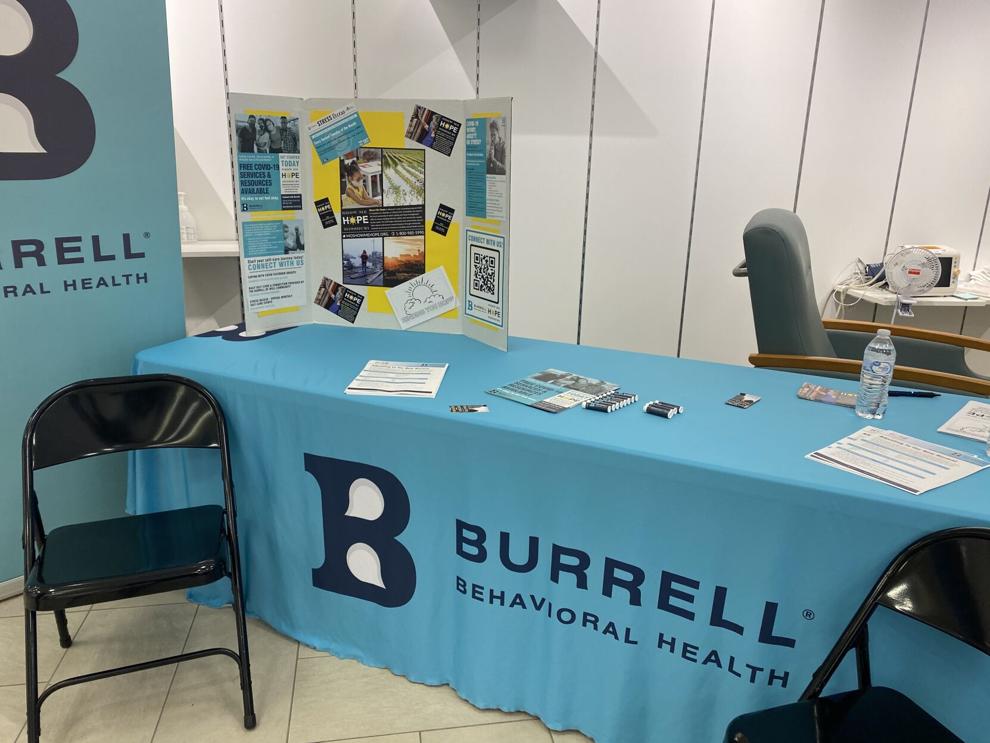 Burrell Behavioral Health staff sat at a table in the waiting area outside of the Columbia Mall's vaccination vent Monday and Tuesday. 

Mackenzie Christian, KOMU 8 Reporter
"Through these outreaches we just really want to (let people) know that we're people too and we're going through this pandemic too," Douglas said. "We want to make sure that we're having genuine connections and letting people know that it's okay to say, 'I could use a little bit of help.'" 
The state of Missouri's crisis counseling program is called Show-Me Hope. Burrell has partnered with Show-Me Hope to provide crisis counseling services in central and southwest Missouri.
Douglas said it's important for them to be at these events because the community has struggled with mental health during the pandemic, and it's important they see support as they're taking their next steps toward normalcy. 
"One of the things we have found is that throughout this pandemic, we've had a significant increase for the need of mental health support in our community," Douglas said. 
Douglas also said people are expressing emotional relief after getting their vaccinations, and he's there to talk to them about that range of emotions, too. 
"People are saying how excited they are to get rid of masks eventually," Douglas said. "That's what we're getting a lot of: 'I can't wait to be able to hug my family again… I can't wait to feel good about going out to eat at restaurants again.'"
"There might be tears… there might be a wide array of responses," Douglas said.
For those who didn't come in contact with Burrell during their vaccination appointment, Douglas said there is support online and in-person.
"People need to be open and honest with their immediate care system… whether it's their friends, their family, their faith community," Douglas said. "Go ahead and use existing people that you trust as your support network… and be brave enough to say, 'I'm not feeling great,' and then listen to that advice."
Douglas said Burrell genuinely cares for the community's wellbeing, and they have resources available to help during these next steps.
You can visit Burrell's website and join their Facebook group to talk to people or find mental health resources. You can also reach their 24/7 crisis hotline in central Missouri by calling 1-800-395-2132.
The Columbia Mall is still accepting walk-ins for Tuesday's event. Staff will be offering the first Pfizer dose until 6 p.m. to anyone 16 years old and older. The second dose clinic will be Tuesday, May 11.
[ad_2]

Source link