A 21st Century Solution for Presbyopia
[ad_1]

Like other eyecare professionals, the most common diagnoses for "patients of a certain age" is presbyopia. This can be annoying or even debilitating depending on the severity of symptoms. But as we all well know, presbyopia is one of our most common diagnoses, a ecting nearly 1.8 billion people worldwide with 40 the average age of onset. Yet its universal nature does not make it any easier for doctor or patient.
Today's presbyope is more complex to treat for a variety of reasons. Our workplace and even our day-to-day communications depend more and more upon digital devices which create more stress on our eyes. As people live and work longer, lenses alone may not provide optimal treatment for presbyopia.
Patients who have had excellent vision throughout their lives are never happy to learn the truth. Once I start the conversation, "Around the age of 40, your eyes slowly lose their ability to focus…." patients usually interject with, "Please don't tell me I need bifocals!" With advances in medicine and a renewed focus on health, nutrition and wellbeing, most health-aware presbyopes want to know all of their options for better, more comfortable vision.
WHAT ARE THE TREATMENT OPTIONS?
The truth is we have several options to help with presbyopia:
Reading glasses
Progressive lenses or bifocals
Multifocal or monovision contacts
Surgical options such as multifocal or accommodating intraocular lens implantation, corneal inlays, or laser intrastromal correction.
These are options that have been around for many years but there are times when none of these above choices are ideal for a patient.
IN THE NEAR FUTURE: AN EYE DROP THAT WILL TREAT PRESBYOPIA
One exciting new treatment option that will drastically change the way we treat presbyopia is with an eye drop. Orasis (OR-uh-sis) Pharmaceuticals is working on a drop that can restore a patient's near vision. The drop balances e cacy, safety, and comfort which are critical for people with presbyopia who are looking for an alternative to reading glasses.
From a doctor's perspective, not only am I excited to have another treatment option but I'm thrilled this new drop will be a preservative-free formula. This will be a much better option for my dry-eye patients. Less preservatives in the eyes gives a healthier tear fi lm and it means I don't have to compromise ocular surface health for a presbyopia treatment.
WHY IS USING AN EYEDROP A GAME CHANGER IN TREATING PRESBYOPIA?
Many patients fi rst feel the signs of aging when they are told they need to use reading glasses or progressive lenses. Although this is a normal aging change, to have something as important as your vision stop working the way it should is a huge frustration and can impact every aspect of your life. Additionally, for my patients that have a more active lifestyle, glasses can feel like they are getting in the way and with the constant use of masks, glasses fogging up is another problem.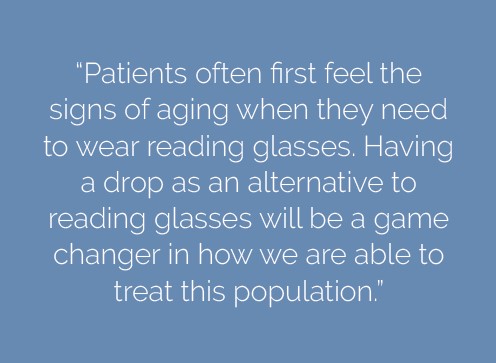 Having a drop that can improve reading vision for these patients can feel like a miracle treatment. It allows patients to have the wisdom that comes with their age but still maintain a more youthful vision.
POV DOCTOR PERSPECTIVE: WHAT DOES THIS MEAN FOR THE FUTURE OF EYE CARE?
As with most advances in eye care, this is a particularly exciting one. I foresee a large shift in patients coming into optometry o ces to see if they're a candidate for this drop. From a provider point of view, this is wonderful news because it means patients that might not normally get an eye exam will now be motivated to make an appointment. Yearly comprehensive eye exams are an important part of your ocular health and preventative medicine is always better than reactive. We will be happy to accommodate these new patients in our schedules.
Presbyopia is a normal part of life but these exciting advancements are coming quickly. In the next two years, we will have new treatment options for patients with presbyopia which means dealing with some of these annoying symptoms might be a thing of the past.
---
About the author:
Jaclyn Garlich, O.D., F.A.A.O., is an optometrist and the owner of Envision Optometry in Boston. A graduate of the New England College of Optometry, she furthered her training by completing a residency in primary care and ocular disease at the St. Louis Veterans A airs. She obtained her Fellowship of the American Academy of Optometry in 2011 and has a strong interest in treating dry eye. She is the editor of 20/20 Glance, an optometry newsletter that educates thousands of optometrists on the latest advances in our profession. Dr. Garlich also serves as a Major in the Air National Guard. Dr. Garlich is a consultant for Orasis Pharmaceuticals.
[ad_2]

Source link